Henrik Borgstrom's stock has certainly fallen over the last couple of years.  When he left the University of Denver in 2018 after a stellar sophomore season, he looked like a can't-miss prospect that was ready to step in and play a regular role for the Panthers in the immediate future.  Fast forward to today and he has yet to lock down a full-time spot.  His next move may be heading overseas as a report from Jatkoaika's Antti Parnanen notes that Borgstrom is in talks with Jokerit of the KHL for a contract for next season.
The 22-year-old played in 50 games with Florida in 2018-19 but saw that number dip to just four this season.  Instead, he spent most of the year with AHL Springfield and his numbers there didn't exactly jump off the charts with 23 points in 49 games.  For context, he had 22 points in just 24 AHL contests a year ago.  Accordingly, it's fair to suggest that he has dropped a little bit on Florida's depth chart along the way.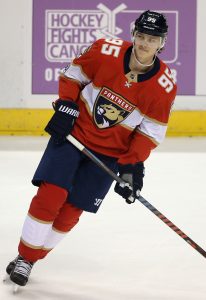 Borgstrom will be eligible for waivers starting next season and given his upside, it's a fairly safe bet that he wouldn't be back in the AHL next season as someone would undoubtedly take a chance on him if Florida was to put him on the wire.  However, while he could hold his own as a 12th or 13th forward on a roster, that may not be the best for him from a long-term perspective.
A season overseas back home with Jokerit – the program he developed in before coming to North America – could certainly help get him back on track.  There, he'd have an opportunity to play in an offensive role and boost his stock.  It would be a similar approach to what Edmonton winger Jesse Puljujarvi did this season where he went back home and was among the top scorers in the SM-liiga.
Of course, the ongoing pandemic could certainly play a role here as well.  At this stage, it certainly seems possible that the2020-21 campaign is unlikely to start as scheduled whereas the KHL is currently planning to start around their usual time in September.  Going there would ensure that he's playing next season and still open up the possibility to come back to North America partway through the next NHL campaign.  Parnanen adds that if Borgstrom and Jokerit do indeed reach an agreement, it likely wouldn't be signed until the fate of the current NHL season is determined.
If Borgstrom does go overseas, the Panthers would be able to retain his rights as a restricted free agent by tendering him a qualifying offer this offseason.  He's not eligible for salary arbitration and wouldn't be after a season in the KHL either but a strong season with them could certainly bolster his negotiating position, one that will be rather low after the year he just had.
Photo courtesy of USA Today Sports Images.